Trending
Dindigul District Administration Planted 6.03 Lakhs Trees In 4 Hours
Under the leadership of TN Food Minister R.Sakkarapani Dindigul District Administration executed a massive tree plantation drive by planting 6.03 lakhs trees in 4 hours
Dindigul District Administration in association with Hindu Religious and Charitable Endowments Department, TamilNadu Agricultural University, Tamil Nadu Forest Department and Ever Green City Club executed a massive tree plantation drive by planting 6.03 lakhs trees in 4 hours at Idayakottai Village of Oddanchatram Constituency in Dindigul District, involving 16500 volunteers on December 23, 2022, in a bid to honour a mission "Green Tamil Nadu" Initiated by Chief Minister of TamilNadu. This event was executed under the leadership of Tamil Nadu's Food and Civil Supplies Minister R. Sakkarapani. The Feat was later certified by Elite World Records, Asian Records Academy, India Records Academy and Tamilan Book of Records in the category "Most Trees Planted by a Team in 4 Hours (Single Location)". 
Udhayanidhi Stalin, Minister for Youth Welfare and Sports Development, stated "I congratulate the people of Oddanchatram constituency for their successful plantation drive. The environmental conservation is an integral part of the Dravidian model and various measures are taken by the Government of Tamil Nadu to protect and combat nature and the environment. I laud the efforts of the TN Food Minister for executing this massive plantation drive and recalled former Chief Minister Karunanidhi's saying "that a good society should grow trees instead of religion".
According to TN Minister of Food and Civil Supplies, R.Sakkarapani,  with a sincere commitment to protect mother nature and to create a friendly green environment, we have executed this drive. We have planted 6.03lakhs trees in 4 hours covering 52 hectares. In order to protect the trees which are planted, we have established 2 wells, 2 farm ponds, and 6 bore wells. Trenches are created throughout the surface to harvest rainwater, and we have also erected proper irrigation infrastructure at every nook and corner of the location. I am sure that this location will be a treasure to the general public and soon it would become an iconic tourist spot of the state, he proudly added.
Dr S.Visagan, District Collector, detailed that Restoring landscapes brings prosperity, security,and opportunity, Forest landscape restoration is not just an environmental strategy; it's an economic and social development strategy as well. I urge everyone to be a part of Green Tamil Nadu Mission, he further said.
Deepak Sreevatsava, Project Director, Green Tamil Nadu Mission, stated that, the aim behind the initiative was to full-fill the mission and vision of Chief Minister of TamilNadu, M.K.Stalin in ensuring "Green-TamilNadu", with the task to increase its forest to 33% cover from the present 23.7% before 2030 to combat climate change, he further said. Dr.V.Geethalakshmi,Vice-Chancellor, TamilNadu Agricultural University, pointed that, this massive plantation drive created an awareness on importance of preserving trees and how it reserves climate change. In future, this location will be adobe to dense forest that will provide shelter to several species, she further added.
Bhavana Rajesh, Adjudicator-Elite World Records, pointed out, if conversation of natural resources goes wrong, then nothing else will go right. My hearty congratulations to each and every hand which has been part of this massive event which is in the direction of conserving natural resources for the upcoming generations…! Bravo to the leaders who stood by their citizens and in encouraging them positively in right direction…!, she further pointed.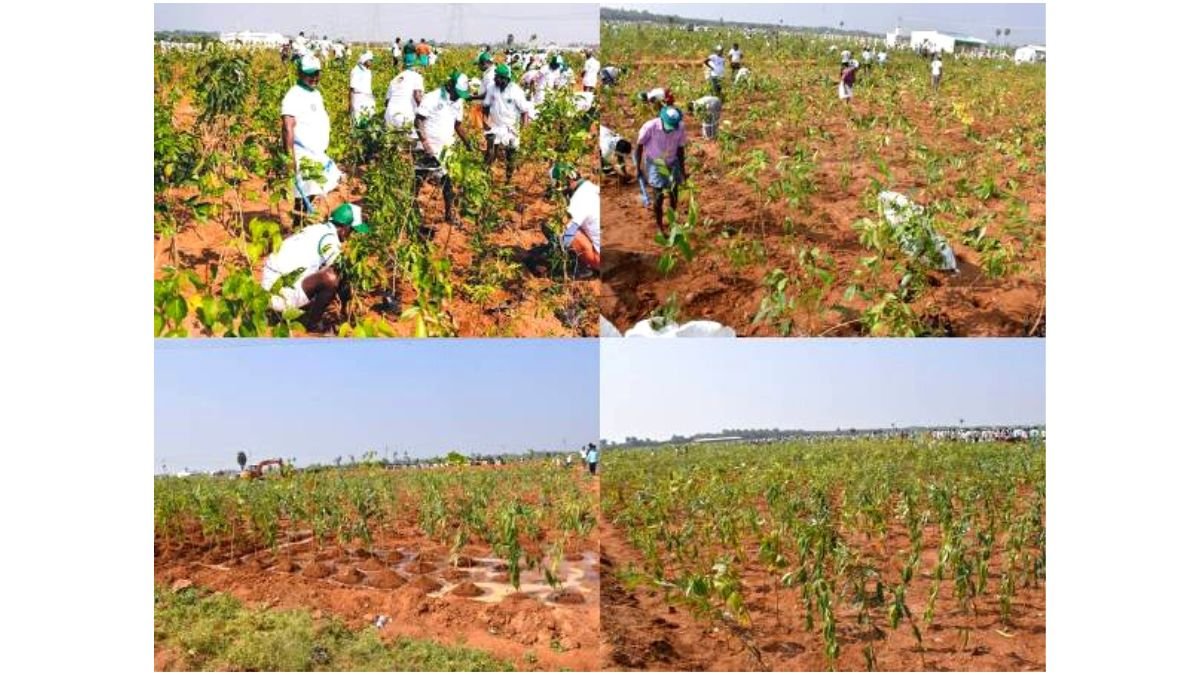 G.K.Sowjanya, Adjudicator-Elite World Records, stated "An exemplary attempt by Dindigul District Administration by planting 6.03 Lakhs trees in 4 hours to increase green cover and to full fill the mission "Green Tamil Nadu" initiated by Chief Minister of the state". Happy to adjudicate and certify such an event that has created unbeatable history, she further stated.
Dr.A.K.Senthil Kkumar, Ambassador-Asian Records Academy, stated that the team has planted 6,46,938 trees in 4 hours, but based on various parameters and guidelines set by world record authorities we have taken into consideration 6,03,009 trees for the record title, he further added.
World Record titles were conferred to Dindigul District Administration by Dr Rabih Baalbakhi (CEO-Elite World Records), Dr A.K.Senthill Kkumar (Ambassador-Asian Records Academy), P.Jeganathan (Senior Records Manager-India Records Academy), Dr B.Balasubramanian (Senior Records Manager-Tamilan Book of Records) and were received by Council of Ministers Udhayanidhi Stalin (Youth Welfare and Sports Development) R.Sakkarapani(Food and Civil Supplies), I.Periyasamy (Rural Development), Dr Mathiventhan (Forest) and Dr S.Visagan (District Collector).
The event was witnessed by the Member of Parliament (Dindigul Constituency), MLA's, Local Body representatives and many more. This Visionary Project will be an everlasting asset as a pioneer tourist spot in the district and the people of the constituency will be widely benefited out this treasure.
Disclaimer: The news content is provided by Elite World Records and distributed via Digpu RSS feed network.